E. grandiflorum f. flavescens
E. grandiflorum Forma Flavescens
Previously offered as E. grandiflorum ssp. koreanum, Professor Stearn reclassified this group in his 2002 monograph. He also recognized E. koreanum as a distinct species. This was a start in sorting out the confusion within this group, but probably not the end of the story.
Native to Hokkaido and N. Honshu, Japan. Deciduous. Probably more cold hardy (USDA Zone 4, possibly 3) than straight E. grandiflorum. Medium to large leaflets. The forms we grow do not produce a second growth flush. Large greenish-white to pale yellow flowers usually bloom just below newly unfurling leaves. Semi-spreading with 2-4" rhizomes.
We grow many distinct forms of f. flavescens, (probably differing from one another due to their origins in segregated wild populations). We gave each "type" a number (unless we has location data), but not a cultivar name as there are probably thousands of similar clones in the original wild populations.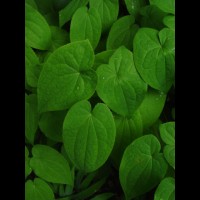 Epimedium grandiflorum f. flavescens #2
E. grandiflorum f.  flavescens #2   (Cc. 940550)


Of over 50 distinct clones of E. grandiflorum f. flavescens we grow, this is by far the earliest to bloom with large, pale greenish-yellow flowers held below large, elliptical, bright apple green leaflets. Large, mature leaflets etched by the nearly parallel main veins make a bold, elegant garden statement. From the Kyoto Botanic Garden in Japan, it is very different from other clones circulating in the U.S. 20" tall. $10